Patrick Middleton talks to two Brits living in the city who were born half a century apart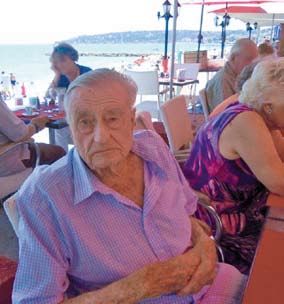 Richard West
came on the scene in London in 1920. That's two years before the birth of BBC radio and sixteen years before the launch of television at Alexandra Palace. "Both these media have played a huge part in my life. I was actually an extra in a television play in 1937. My father was an actor and I suppose that's why I acquired what people always called my excellent diction. I didn't care for school much and at sixteen I went to France for a while which I much enjoyed. When I returned I enrolled at the London Theatre Studio where my teacher was the brilliant French director Michel Saint-Denis. Having the language proved useful when I was called up. I did liaison work with the Free French and met de Gaulle several times.
"When I got out of uniform I started on my long career as an actor and – much my preference – a director. For years radio was a very big thing for me, anything from very serious drama on the Third Programme to playing a villain in
Dick Barton
. You know, some people say radio acting is a soft option. No way! My inspiration was my mother who was Gladys Young, surely the finest English woman radio actor of all time. I still meet people who remember her voice and her subtle use of it. But I wasn't just that man on the wireless. I spent very little time 'resting'. I did cinema for Rank, a lot of repertory and in later years I got to go on theatrical junkets to places like Australia and Canada. And by the late Fifties, of course, television was taking up a lot of my time. That was directing which I'm much better at than acting, to be honest. My favourite show was
No Hiding Place
, a cult crime series in the Sixties on ITV. I also had two longish spells with the BBC as a drama director."
When Richard decided to slow down rather (he remained on call for many years) why did he choose to settle in Menton? "I'd been here on holiday and I liked it and it was close to Italy where I enjoy having lunch." And how would he rate the experience of growing old? "Not very favourably! You can't get about too easily and – the worst thing – all your old mates die off. That's hard for theatre people who tend to keep in touch across the years and love to reminisce. As you can see, though, I'm still wide awake. You have to keep mentally active so I read a lot. I don't have a television."
Susanne Batstone
is exactly half the age of Richard West. "I was born in 1966 in Ipswich in Suffolk. Funnily enough, I found I'm living in a house here in Menton once occupied by Daevid Fortune, a well-remembered figure from the old-style Riviera Radio, who also came from Ipswich. People often say, by the way, that I look and sound very English. That's a bit misleading. My father was Ukrainian – my maiden name is Bohush which I'm told means something to do with God – and my mother German. At school I decided I wanted to do something where I'd help people. When I was eighteen I joined a management training programme at Lloyds Bank which might not sound like what I was after. In fact, I was in what they now call Human Resources and did lots of people-oriented training and personal development, which I loved because it helps motivate people. At one point it seemed as if I had a career all mapped out."
So what changed? "I met my now ex-husband, another native of Suffolk. He was a marine engineer working on yachts. He got a job down here and I moved after a couple of years. I soon realised I was a yachting widow. He was often away working and eventually our relationship crumbled and ended in divorce. I was left, though, with two fantastic young children – Catherine, now 18, and Christopher, 15 – and I had ten rather tough years as a single working mother. That's the sort of experience that either makes you or breaks you. To win through you've got to be positive. I was helped, no doubt about it, by the fact that from the from the start I'd been determined to integrate with the local French community. When my marriage ended I didn't feel totally isolated as can happen in some cases. I had some English friends, of course, but I also felt part of a French world, too. School played its part: I'd put my children into private Catholic schools and made some good friends among the parents. The advice I'd offer to anyone settling here is simple: learn French and reach out to people.
"I was brought up as a Catholic but drifted away. Then, in dealing with my various difficulties including the loss of both my parents after my husband left, I realised that I'd got through by calling on my inner resources. Easy to say but – for some people – not so easy to do on their own. I became interested in a variety of personal development programmes – I started off pretty sceptical, I admit – and I've been very active introducing these to our English-speaking community. I've organised seminars and courses with Alison Prideaux, a local who presents Mindfulness Based Stress Reduction, and I've brought the life coach Cate Mackenzie down a couple of times who 'aims to help people build their confidence and create the life of their dreams'. It's easy to be dismissive but these approaches can work and need to be looked at with an open mind."
Has Susanne's Menton changed during her two decades here? "Well, it's always been for me an attractive town, and great place to bring up kids. On the social side, the English-speaking community has been changing. More and more younger people – often working in Monaco – have been moving in and the British Association, under Birgitt Nordbrink, has been widening its activities to take account of this. I've played my part – by running charity walks, for example, which don't attract those with walking-sticks." At 46, and training to become a Bach practitioner, does she sense a midlife crisis? "Not at all. I go with the flow and take it as it comes with a positive attitude. Who knows – in 2058 I may be blowing out 92 candles like Richard's just done!"