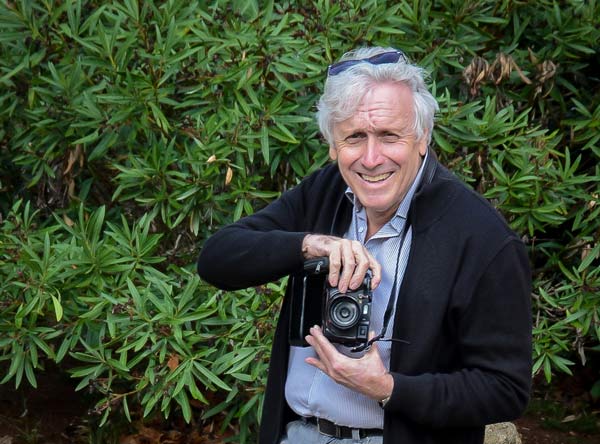 Roy Cox was born in Burton-on-Trent in the British Midlands. He went to Derby Art College and began his lifelong passion for photography.
It was at a party at the British Embassy in Budapest where Roy first set eyes on his future wife, Stella. During the following year, when Roy was working in sales, they met several times in different parts of the continent, and, typical of such a thoughtful man, Roy once drove from the south of Poland through the Czech Republic to Hungary to surprise Stella for the weekend. In 1976, they wed and spent their first year of marriage in Moscow.
In 1989, shortly after I started this magazine, Roy made an appointment to see me. He had just moved here with his wife Stella and their infant daughter Astrid. He was looking for work doing the very thing that keeps a magazine such as this alive – introducing the
Reporter
to potential advertisers. Roy had sales experience and, unlike many job seekers from whom we hear, he was willing to be paid on his merits in the field, rather than a fixed salary. He set himself up as a small French business and our long-term collaboration began.
Over the years, the working relationship took many forms, but Roy was always there, ready to serve this magazine and this community. He was more than a work colleague; he became a true friend of the best kind.
Many of you knew Roy as the generous, soft-spoken man that he was, ready to help out anyone if he could. He had a rather wicked sense of humour and a beaming, ready smile. People instinctively liked him and if one word could describe the community's opinion of Roy Cox, it would be "respect".
At one time, he also visited clients on behalf of Riviera Radio and that was a tie-up of mutual benefit, to both the
Reporter
and the station, in an alliance that has never existed since. But Roy made it work and it worked well.
A few years later, Roy took a managerial position with a local transport company. It was better-paid and offered career opportunities that the
Reporter
could not. Although he was no longer a permanent member of the staff, he was omnipresent and remained part of the team, helping with deliveries on his own time and assisting with many other tasks.
An accomplished photographer, Roy took many of our covers, sometimes using Astrid as a model. More recently, his favourite subject naturally became his new grandson Matias.
Sometimes, but in hindsight not often enough, we would set off with our cameras into the picturesque Riviera back country, not neglecting to stop for a good lunch along the way. Those memories will always remain with me; Roy was lovely company.
About three years ago, Roy came down with a terminal lung disease called Idiopathic Pulmonary Fibrosis (IPF). Together with Stella, Roy set off with his usual optimism and cheerful disposition to make the most of the limited time they knew he had left.
Our last meal together was lunch at a small restaurant near his home in Roquefort-les-Pins. He was permanently attached to a portable oxygen supply and every step was an effort, but Roy faced it with his usual courage and smiling disposition. In his own words, "I don't want you to treat me any differently than before."
Part of the way through our meal, his mobile phone rang – the lung specialist. We had to cut our lunch short so I could take him home, where an ambulance would come to transport him to Marseille for further treatment. Ours was the last meal Roy ever had outside a hospital.
Roy died at Pasteur Hospital in Nice on Sunday, October 18th, 2015, at only 64. He had endured a cruel and painful disease with stoic courage and we never lost hope that a compatible lung transplant would keep him with us. It was not to be.
Rest In Peace, Roy Thomas Cox. A genuinely good man and a true friend, remembered most fondly by his dear wife Stella, daughter Astrid, her husband Andres and grandson Matias; he loved you all, so very much.
"Projet AiR" of the Fondation UNICE carries out medical research into IPF. You can make a donation at www.fondation-unice.org